This here is the first console modding/hacking project I ever did, for a first try it was very difficult but it paid off and I ended up catching the modding bug afterward.
Here's the thing, the first Xbox was actually just a modified Linux PC (I know, weird right? microsoft made a linux based gaming console!)
To that end the controller ports are actually Proprietary USB 1.1 ports, the only difference is an extra yellow wire which is for timing signals.
What you will need
| | | |
| --- | --- | --- |
| * | Wire Strippers. | * |
| * | Xbox controller dongle (that bit that plugs into the console with the round piece that connects to your controller) | * |
| * | soldering iron (better to use than just twisting wires together... trust me) | * |
| * | Electrical tape/Heat shrink cable sheath/tubing | * |
| * | any old USB cable | * |
| * | 10 minutes of your time. | * |
you can mod any section of cable, personally I prefer to modify the breakaway part of the controller cable because that basically functions as a PC adapter for any OG Xbox controller you want to use.
by the end of this project your cable should look something like this
this is probably one of the easiest mods you can possibly do, you don't even really need schematics however I'm going to post them anyway because there are a lot of potential modders out there who haven't done anyhting with USB, though it really is as simple as matching the wire colors and connecting them together.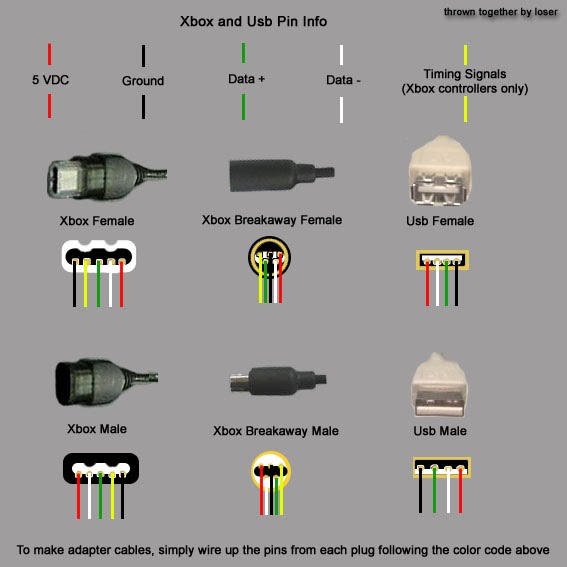 Simply put, connect each color to it's matching color on the oposite end of the cable you're making, black to black, white to white, and so on... solder each cable, and place either electrical tape or ideally Heat shrink Tubing over each wire lead as well as the whole bundle to ensure a strong connection.
If you want to make an Xbox USB input adapter instead with a USB male to female cable and a single breakaway cable you can actually make one of each so you can use your OG Xbox controllers on your computer and you can plug a flash drive into your Xbox (more on that later.)
the next step in the process is to download the correct drivers for your Operating system.
If you have windows 8 or newer it will recognize your controller as an Xbox 360 controller so you shouldn't have any issues.
if you have an older version of windows which supports USB or another OS you will need special drivers. Drivers for windows 98, 2000, xp, vista, 7
Believe it or not Linux has full support in it's generic Joystick drivers, and you can compile the linux drivers in OSX which is just plain awesome.
Furthermore you can utilize the Linux drivers in any Unix type environment with USB ports just as long as you have all the dependencies for the joystick driver, Just remember to calibrate your joystick before use.
as far as I know non Unix based and or windows based operating systems do not have an Xbox controller driver or if there is one it likely needs work.
now as for why you might want to connect a USB flash drive to an Xbox controller port... well if you happen to be into modding stuff you can use it as an alternative way to softmod your xbox by loading a hacked save file onto the flash drive and then loading that save file into the requisite game.
you can also use it to load full save files, back up your save files, and do all sorts of tricks like that to get the ball rolling.
that being said however I think I should post a separate deal for Xbox soft modding and all the pro's and con's that come with it.
Zalost - out